Family doctors fly north to support Operation Remote Immunity
About DFCM, Global Health and Social Accountability, Residency, Education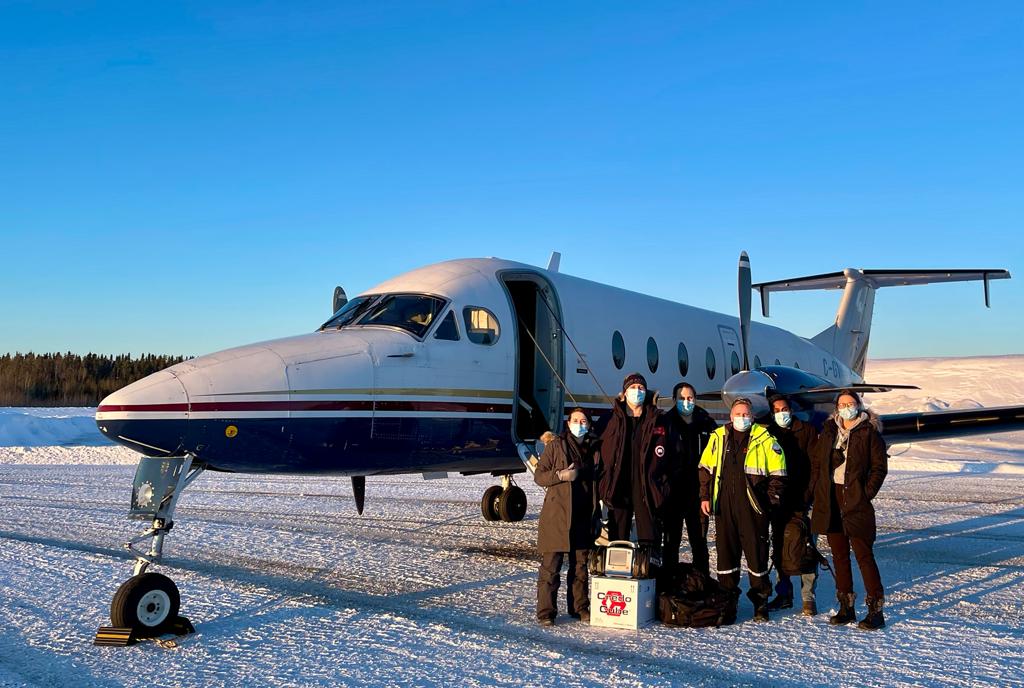 Operation Remote Immunity is a critical part of Ontario's phased vaccination rollout plan. It is led by Ornge, Ontario's air ambulance service, in partnership with the provincial government and Nishnawbe Aski Nation (NAN) representing 49 First Nations in Northern Ontario, together with a network of dedicated partners, staff and volunteers.
Dr. Suzanne Shoush, the Department of Family and Community Medicine (DFCM) Indigenous Health Faculty Lead, spent two weeks working as part of the initiative. Speaking to Toronto Life she describes it as "an incredible feat of logistics, planning and execution".
Operation Remote Immunity is currently delivering thousands of vaccines to 31 remote, fly-in Indigenous communities and Moosonee in deep winter. These communities often do not have access to healthcare services and experience dangerous public health conditions—thus the urgency of vaccination, explains Dr. Shoush.
To function, Operation Remote Immunity relies on a network of partners, community leadership and local support to facilitate and encourage participation. To date, hundreds of clinicians and medical learners have contributed to the effort, including representatives from DFCM.
After being vaccinated themselves, and taking mandatory Indigenous cultural safety training, volunteers including faculty members Drs. Shoush, Ashna Bowry, Laura Hans and Megan Landes, four DFCM residents and a second-year physician assistant each spent a week or more based in Thunder Bay, Sioux Lookout and Timmins, travelling daily to vaccinate in fly-in communities.
"I was a vaccinator at Sandy Lake, a fly-in reserve about 300 kilometres from Sioux Lookout with a total population of around 3,000," says Dr. Shima Shakory, a first year family medicine and public health resident at DFCM. "Each morning we arrived by plane, bringing with us the vaccinators and the vaccine. The mass vaccination clinic was already set up by the amazing local team. The logistics of mass vaccination are much more complicated given the location, but it all functioned well."
While Operation Remote Immunity is on track to complete its mission by April 9, progress in Toronto is slower.
"In Toronto alone, there are 80,000 Indigenous people, with an estimated 60,000 eligible for vaccination. But we've had to fight and advocate relentlessly for resources and vaccines for the urban community," says Dr. Shoush.
To help Indigenous communities find and access Indigenous-led vaccine clinics and Indigenous vaccine days, Dr. Shoush and colleagues started the Tkaronto Indigenous Vaccine initiative, with online support and a 'Call Auntie' phone line.
"Indigenous people are valuable, and our knowledge, culture and languages are important," Dr. Shoush told Toronto Life. "We have to be healthy and protect everyone we can, because Indigenous life is sacred. My participation in the Ornge project was just two weeks, but it was the most incredible experience of my life."
DFCM faculty and learners who have participated in Operation Remote Immunity include:
Dr. Ashna Bowry - Unity Health Toronto, St. Michael's
Brett Glena - Second Year Physician Assistant
Dr. Laura Hans - Unity Health Toronto, St. Michael's
Dr. Megan Landes - UHN, Toronto Western Hospital
Dr. Elliot Lass - PGY3 Family Medicine Resident
Dr. Kate MacNaughton - PGY3 Family Medicine Resident
Dr. Cassandra Quan - PGY3 Family Medicine Resident
Dr. Shima Shakory - PGY1 Family Medicine Resident
Dr. Suzanne Shoush - Unity Health Toronto, St. Michael's
Dr. Jonathan Gravel - Mount Sinai Hospital